Quality Management
Rework and defects are a direct outcome of lack of attention to quality. The higher the rework, more time and money being wasted and busting the cost and schedule baseline.
Lack of attention to quality needlessly add considerable risk to the project which results in tremendous amount of rework and added expense.
It is important to know at the onset of the project what acceptable quality is and how it will be measured on the project. This process of performing Quality Management process helps avoid many issues at a later stage of the project.
DEFINITION OF QUALITY
The degree to which the project fulfills the requirements is defined as Quality.
A project cannot achieve quality if all of the stated and unstated requirements are defined in the project scope statement.
DEFINITION OF QUALITY MANAGEMENT
The process of creating and following policies and procedures to ensure that a project meets the defined needs it was intended to meet from the customer's perspective is termed as Quality Management. Quality Management process ensures no deviations occur from project requirements. Plan Quality, Perform Quality Assurance and Perform Quality Control are a part of Quality Management process.
QUALITY THEORISTS
A few important quality theorists include:
Philip Crosby: Phil Crosby propagated that quality is "conformance to requirements". The concepts of cost of poor quality, prevention over inspection and "zero defects" were also popularized by him.
Joseph Juran: Joseph Juran defined quality as "fitness for use" and advocated involvement of top management to address quality issues. The 80/20 principle developed by Vilfredo Pareto was propagated by Joseph Juran.
W. Edwards Deming: The 14 points to quality management and Plan-Do-Check-Act cycle were propagated by Dr. W. Edwards Deming.
ACTIONS REQUIRED TO ENSURE QUALITY ON THE PROJECT
Review of project charter and project scope statement
Gather customer's voice about the definition of quality
Identify the specific (desired) levels of performance in the products and components of the products
Identify the levels at which the project can be controlled (i.e. at work package level, at activity level or more detailed levels)
Identify if there are any activity levels and/or processes are applicable to the project
Determine the quality standards and processes to use, when, and on what parts of the project
Set standards to reach the level of quality performance
Set metrics to measure quality from customer's and stakeholder's viewpoint
Identify the procedures to effectively control the processes followed and standards are met
Test the validity of assumptions before they result in problems
Make sure the team members understand the definition of quality for their work
Collect problems, errors, and complaints, and review what can be done to prevent them from reoccurring on the project
Have teams "roaming" the project looking for quality improvements
GOLD PLATING
Gold plating is all about giving the customer extra value of the product (such as more functionality, higher-quality parts, more scope than required, higher performance). Some organizations do have the policy that promotes adding value to customers and going over an beyond fulfilling their requests, it is not recommended by advanced quality thinkers. The team's impression of what is valued by the customer and what the customer does not want is often termed as Gold Plating. Most projects have difficulty in achieving the objectives of the project, gold plating can be done on certain projects and may not be done on certain others. This creates a gap in customer's expectations and hence gold plating is not recommended.
MARGINAL ANALYSIS
The point where the benefits (revenue) that is to be received from improving quality equals the incremental cost to achieve that quality is termed as Marginal Analysis.
CONTINUOUS IMPROVEMENT (OR KAIZEN)
Continuously looking for small improvements in the process is termed as Continuous Improvement. Kaizen is a Japanese word where "Kai" means "Change" and "Zen" means "for the better".
JUST IN TIME (JIT)
The concept of JIT involves having the suppliers deliver raw materials just when they are needed, thus reducing inventory to close to zero. JIT has supplemented reduction in high inventory costs which is unnecessary.
TOTAL QUALITY MANAGEMENT (TQM)
This philosophy encourages companies and their employees to focus on finding ways to continuously improve the quality of their products and their business practices at every level of the organization.
RESPONSIBILITY FOR QUALITY
The ultimate responsibility of the product or project quality lies with the project manager. However, the entire organization has responsibility relating to quality.
IMPACT OF POOR QUALITY
Poor quality leads to:
Increased costs
Low morale
Low customer satisfaction
Increased risk
Rework
Schedule delays
UNDERSTANDING THE DIFFERENCE BETWEEN PLAN QUALITY, PERFORM QUALITY ASSURANCE AND PERFORM QUALITY CONTROL
Plan Quality focuses on:
Defining quality for the project
Identifying how quality will be achieved
Perform Quality Assurance focuses on:
Work being done on the project
Ensures that the team follows the processes as planned to produce project's deliverables
Perform Quality Control focuses on:
Examination of actual deliverables of the project
Ensure deliverables are correct and they meet the planned level of quality
PLAN QUALITY
The Plan Quality process requires inputs from:
Organizational process assets
Enterprise environmental factors
Stakeholder register
Scope baseline (scope statement, WBS, WBS dictionary)
Schedule baseline
Cost baseline
Risk register
Objective of Plan Quality process is identification of relevant organization/industry practices, standards, requirements for quality of the project, product of the project, and project management efforts.
The output (result) of Plan Quality process is a Quality Management plan.
As a part of Plan Quality process, the project manager needs to look for any standards that can help the project to avoid "Reinventing the Wheel", that can help in higher quality levels. Some available standards include:
ISO 9000: Created by International Organization for Standardization (ISO) to help ensure organizations have quality procedures and that they follow them.
Occupational Safety and Health Administration (OSHA): OSHA set standards for safety of workers in a plant.
The United Nations Conventions on Contracts for International Sale of Goods (CISG): The CISG standard governs international sales transactions.
The project manager should also ensure that the project must comply with Organizational process assets and Enterprise Environmental Factors. The project manager must also plan the project so that it meets customer's quality standards. The project manager must then define any additional project specific standards and procedures that are needed. It should be noted that when the project manager defines additional standards and procedures, he should take appropriate care that these new practices do not violate other relevant standards.
The project manager then needs to determine what work is required to meet those standards created for the project. Determination of specific measurements that will be made each week, each month or for each deliverable should be made to ensure compliance with all standards.
It is important to note that the level of quality efforts should be appropriate to the needs of the project. Quality must be balanced with other project constraints. Let's now learn a few tools and techniques used in Plan Quality process:
COST BENEFIT ANALYSIS
This technique helps the project manager weigh the benefits of the quality efforts versus the costs to determine appropriate quality level and requirements for the project.
COST OF QUALITY (COQ)
COQ involves looking at costs of conformance and non-conformance to quality and creating an appropriate balance. The costs of conformance should be lower than costs of non-conformance.
CONTROL CHARTS
Control charts are SET UP in Plan Quality as a part of the effort to define quality on the project. They are UTILIZED in Perform Quality Control to help determine if the results of a process are within acceptable limits.
During the Perform Quality Control process, samples are taken and plotted on the charts. The control chart shows whether the samples are within control limits.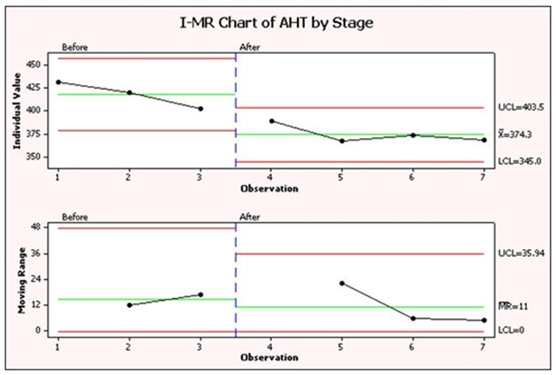 Control Chart
A control chart can be used to monitor project performance figures such as cost and schedule variances. It primarily helps monitor production and other processes to see if the results are within acceptable limits (i.e. "in control"). A "special cause variation" means the process is out of control.
UPPER AND LOWER CONTROL LIMITS
Control limits are acceptable range of variations of a process's results. They are shown as two dashed lines. The acceptable range of measurements between the upper and lower control limits is set by the project manager and stakeholders based on the organization's quality standard. This range is calculated based on +/- 3 sigma (standard deviations). Data points outside this range indicate the process is out of control.
MEAN (AVERAGE)
The mean is indicated by a line in the middle of the control chart. It shows the middle of the range of acceptable variation.
SPECIFICATION LIMITS
Specification limits represent the customer's expectations or contractual requirements for performance and quality on the project. Specification limits are not calculated like control limits. They are stated by the customers. If the data points are outside the control limits, the process is termed as "Out of Control", however, if the data points are outside the specification limits, the process starts producing defects.
OUT OF CONTROL
The process is out of a state of statistical control when:
A data point falls outside the control limits
There are non-random data points; these may be within the upper and lower control limits, such as the rule of seven.
Think of out of control as lack of consistency and predictability in the process or its results.
RULE OF SEVEN
The rule of seven is a thumb rule (also known as heuristics). It refers to a group or series of non-random data points that total seven on one side of the mean. The rule of seven tells the project manager that even if these points are within the control limits, they are not random and the process may be out of control.
ASSIGNABLE CAUSE / SPECIAL CAUSE VARIATION
If there is an assignable cause or special cause variation, it means a data point or series of data points require investigation to determine the cause of variation.
BENCHMARKING
This technique involves looking at other projects to get ideas for improvement on the current project and to provide a basis (or benchmark) to use in measuring quality performance.
DESIGN OF EXPERIMENTS (DOE)
DOE uses experimentation to statistically determine what variables will improve quality. DOE is faster and a more accurate statistical method that allows project managers to systematically change all of the important factors in a process and see which combination has a lower impact on the project.
STATISTICAL SAMPLING
Doing quality audits for all the manufactured products in a project might be a time-consuming task. Here, it is best to take a sample of a population. Sampling is used when:
Auditing the population may take too long
It costs too much
Auditing can also be destructive
The sample size and frequency of measurements are determined as a part of the Plan Quality process, and the actual sampling is done in Perform Quality Control.
FLOWCHARTING
The Macro-level flow charting is termed as SIPOC. SIPOC is an acronym for Supplier (S), Inputs (I), Process (P), Output (O) and Customer (C).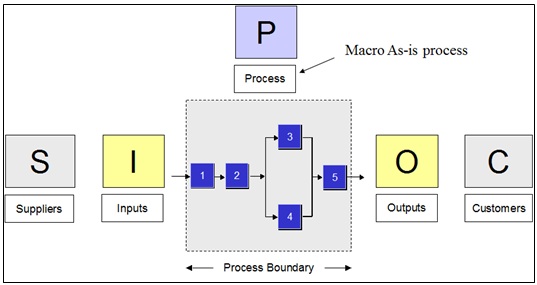 Macro-level Flow Charting (SIPOC)
A flowchart shows how a process or system flows from beginning to end and how the elements interrelate. Flow charts can be used in many parts of project management.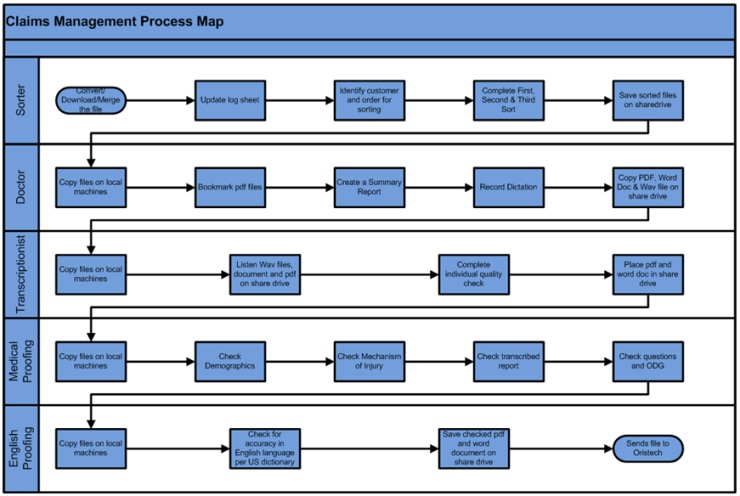 Process Flowchart
OUTPUTS OF PLAN QUALITY
Following are the results of the Plan Quality process:
Quality Management Plan: The quality management plan is the process to determine what quality is and to put a plan in place to manage quality.
Quality Metrics: The project manager needs to think through the areas on the project that are important to measure and decide what measurement systems are acceptable.
Checklist: A quality checklist is the list of items to inspect, a list of steps to be performed, or a picture of the item to be inspected, with space to note any defects found.
Process Improvement Plan: The plan for improving the processes is called the process improvement plan and it becomes a part of project management plan. Process improvement plan helps save time by increasing efficiency and preventing problems. It also saves money and increases the probability that the customer will be satisfied.
Project Management Plan and Project Document Updates: Updates to the project management plan and project documents are needed throughout the project management process.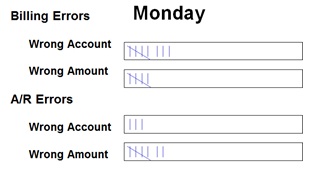 Quality Check List
PERFORM QUALITY ASSURANCE
Perform Quality Assurance is an execution process that is performed while the project work is being done. Following tools and techniques are used by Perform Quality Assurance process:
PLAN QUALITY AND PERFORM QUALITY CONTROL TOOLS AND TECHNIQUES
The tools and techniques of Plan Quality and Perform Quality Control processes are used as a part of Perform Quality Assurance process.
QUALITY AUDITS
A team of auditors is responsible to see if the project is complying with company policies, standardized practices, and procedures and to determine whether the policies, practices and procedures being used are efficient and effective.
PROCESS ANALYSIS
The process analysis should be planned in at certain points in the project. Process analysis is a part of continuous improvement effort on a project and focuses on identifying improvements that might be needed in processes.
OUTPUTS OF PERFORM QUALITY ASSURANCE
Perform Quality Assurance leads to the following outputs:
Change requests
Updated standards and processes
Updated project management plan and project documents
PERFORM QUALITY CONTROL
Perform Quality Control is a process of ensuring a certain level of quality in a deliverable, whether it be a product or a service. Control means measure, and that is a major function of Perform Quality Control process. It measures products or services to determine whether they meet the quality standards.
In large companies, a quality control department may complete much of quality control work and report the findings to the project manager. The project manager must be able to read and understand the quality measurement reports.
Quality Control occurs throughout the life of the project. A few important terms related to quality control are described:
MUTUAL EXCLUSIVITY
Two events are said to be mutually exclusive if they cannot both occur in a single trial.
PROBABILITY
Probability refers to the likelihood that something will occur. It is expressed as a decimal or a fraction, on a scale of zero to one.
NORMAL DISTRIBUTION
A normal distribution is a shape of a bell curve and is the most common probability density function. It is used to measure variations.
STATISTICAL INDEPENDENCE
Statistical independence means the probability of one event occurring does not affect the probability of another event occurring.
STANDARD DEVIATION (OR SIGMA)
A measure of range is its standard deviation. This concept is also sometimes stated as a measure of how far you are from the MEAN.
SEVEN BASIC TOOLS OF QUALITY
The following tools are known as seven basic tools of quality:
Cause and effect diagram
Flowchart
Histogram
Pareto Chart
Run Chart
Scatter Diagram
Control Chart
CAUSE AND EFFECT DIAGRAM (FISHBONE DIAGRAM OR ISHIKAWA DIAGRAM)
Cause and effect diagram is:
A creative way to look at the causes of a problem
Helps stimulate thinking, organizes thoughts and generate discussion
Can be used to explore the factors that will result in a desired future discussion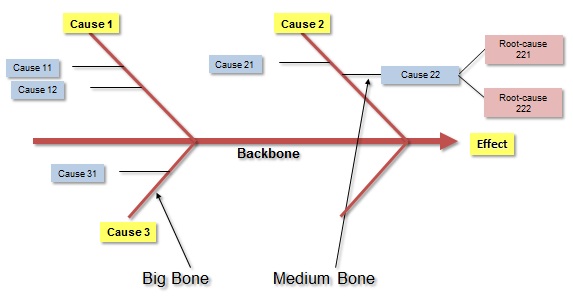 Cause Effect Diagram
HISTOGRAM
A histogram displays data in the form of bars or columns. This tool shows what problems are worth dealing with. A typical histogram presents data in no particular order.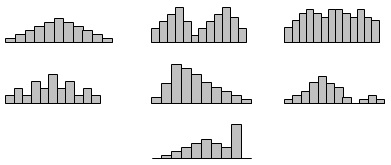 Histogram Diagrams
PARETO CHART (PARETO DIAGRAM)
A Pareto chart is a type of histogram, but it arranges the results from most frequent to least frequent to help identify which root causes are resulting in most problems. It is based on 80/20 rule which states that 80% of the problems are due to 20% of the causes. Pareto charts:
Help focus attention on the most critical issues
Prioritize potential "causes" of the problem
Separate the critical few from the trivial many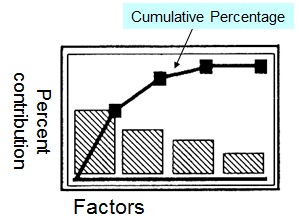 Pareto Chart
RUN CHART
A run chart allows the project manager to look at history to see if there is pattern of variation. It is a useful tool for controlling quality.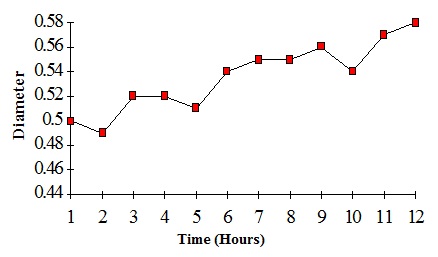 Run Chart
SCATTER DIAGRAM
The scatter diagram tracks down variables to see if they are related.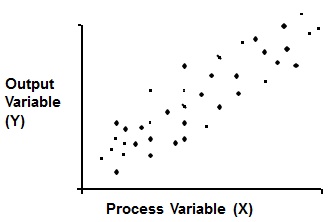 Scatter Diagram
OUTPUTS OF PERFORM QUALITY CONTROL
The outputs of Perform Quality Control process are:
Measurements
Validated changes
Updates to project management plan and project documents
Change requests
Lessons learned
Validated deliverables