Stakeholder Management
Stakeholders are individuals who get impacted by the project. Project Stakeholder Management involves identification of stakeholders, analysis of their expectations and influences, development of appropriate strategies to work with the stakeholders and executing the process. Frequent communication is required with the stakeholders. Needs and expectations of the stakeholders require to be understood. Most of the issues are due to lack of communication. Addressing those issues are also important. Managing conflicting interest and involving stakeholders in key project decisions and activities is also crucial. All of this forms a part of stakeholder management process.
Project manager is expected to possess the ability to identify the needs and influences of the stakeholders and to manage them effectively.
IDENTIFY STAKEHOLDERS
The process of identifying individuals who are impacted by the project is known as Identify Stakeholders Process. The project manager is able to identify the appropriate focus of each stakeholder as an outcome of Identify Stakeholders process.
Stakeholders can include the customers, sponsors, employees, management, government and society as well. These stakeholders have a potential to exert positive or negative influence on the project deliverables.
Stakeholder needs are to be identified at an early stage of the project to ensure all of their requirements and voices are considered. The stakeholders can be classified on the basis of their interest in the project, the level of influence on the project outcome and their involvement. For the success of the project, the project manager needs to have a relationship that is cordial and extremely success oriented.
Identify Stakeholders Process can receive inputs from:
Project Charter; Internal and external parties related to the project are identified using the project charter.
Procurement Documents; the parties involved in a procurement contract are key project stakeholders.
STAKEHOLDER ANALYSIS
Qualitative and quantitative analysis is required to systematically determine the interest of stakeholders throughout the project. The benefits of this analysis are identification of stakeholder interests, expectations, and influences. Another benefit includes identification of stakeholder relationships that can be leveraged to build partnerships with stakeholders to increase the probability of project success.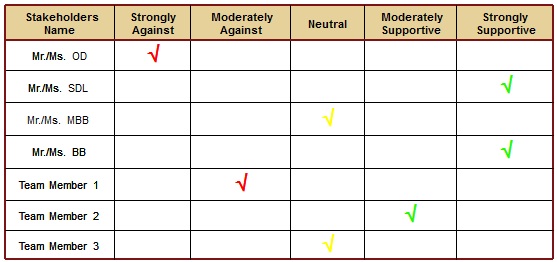 Stakeholder Analysis Diagram
Steps involved in stakeholder analysis process are:
Identification of potential stakeholders including their roles, departments, interests, knowledge, expectations, and influence levels.
Identify and analyze potential impact each stakeholder could generate
Classify the stakeholders basis logical categories of potential impact
Determine the likely reaction of these stakeholders to respond in various situations
Plan the approach strategy to enhance their positive support and reduce negative influences
Multiple classification models are used for stakeholder analysis, including but not limited to:
Power/Interest grid; bifurcation of stakeholders basis their level of authority and their level of concern regarding project outcomes
Power/Influence grid; bifurcation of stakeholders basis their level of authority and their level of involvement in the project
Power/Impact grid; bifurcation of stakeholders basis their level of authority and their level of impacting changes on project activities
Salience model; describes categories of stakeholders basis their power, urgency and legitimacy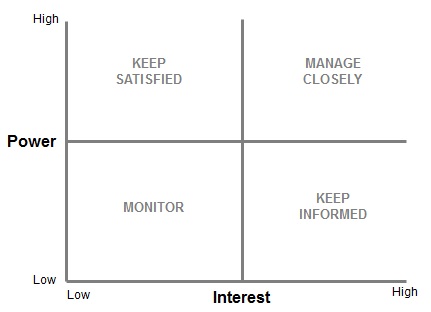 Stakeholder Interest Diagram
BRAINSTORMING
Brainstorming technique can be used to identify stakeholders who belong to senior management, other departments of the organization, lessons learned, project managers who have worked on similar projects, subject matter experts, consultants, regulatory bodies, etc.
OUTPUTS OF IDENTIFY STAKEHOLDERS
Stakeholder register is updated with details such as:
Stakeholder information; their name, organizational position, location, role in the project, business phone number, email address, etc.
Stakeholder requirements; key expectations, major requirements, involvement in the project, etc is included here.
Stakeholder classification; a stakeholder could be internal or external. A stakeholder can also be supporter, resistor, neutral, etc.
Updating the stakeholder register is an iterative process and should be updated regularly.
PLAN STAKEHOLDER MANAGEMENT
Plan Stakeholder Management process involves managing stakeholder expectations and influences throughout the lifecycle of the project. This process provides a plan to effectively interact with stakeholders and support project's interest. Project manager's goal is to plan these actions so well that they impact the contribution of stakeholders on projects, manage their expectations and also achieve project objectives.
INPUTS FOR PLAN STAKEHOLDER MANAGEMENT
The inputs required to plan stakeholder management include:
Project Management Plan; description of processes that will be applied to each stage of the project, description of how work will be executed, planning and execution of human resources, change management procedure, communications management plan are required for planning for stakeholder management.
Stakeholder Register; it provides the description of the interest, involvement and level of authority of different stakeholders.
Enterprise Environmental Factors; organizational culture, structure, political climate are critical to manage stakeholders expectations.
Organizational Process Assets; lessons learned from previous projects and historical information of the organization helps in understanding the behavior of stakeholders and thus planning the actions effectively.
ANALYTICAL TECHNIQUES
The project manager needs to use his expert judgment to decide the level of engagement at each stage of the project from each stakeholder. Meetings and discussions can be held to discuss the engagement level of stakeholders. There are additional analytical techniques that could be used.
Engagement level of stakeholders can be classified as:
Unaware; stakeholders may be unaware of the project's impact or it's potential.
Resistant; many stakeholders are generally resistant to any changes to the project.
Neutral; they will let things happen, they will not resist nor support.
Supportive; these individuals are supportive to change, they are completely aware of the potential of the project.
Leading; these stakeholders will not just support but wherever required will also lead the project to success.
A Stakeholder Engagement Assessment Matrix can be used to identify the engagement levels of stakeholders. Here, C indicates current engagement and D indicates the desired level of engagement.

Stakeholder Engagement Assessment Matrix
OUTPUTS OF PLAN STAKEHOLDER MANAGEMENT
One of the several outputs of Plan Stakeholder Management is the Stakeholder Management Plan. It is a component of the project management plan. The plan articulates management strategies to engage stakeholders for the project. Unlike procurement management, the stakeholder management plan can be formal or informal, it can be detailed to the minutest level or it can just be at a high level, it is based on the needs of the project.
When updating the stakeholder management plan, the validity of underlying assumptions be reviewed to ensure accuracy and relevancy.
Another output of Plan Stakeholder Management are the updates to project documents that include project schedule and stakeholder register.
MANAGE STAKEHOLDER ENGAGEMENT
The key benefit of Manage Stakeholder Engagement process involves seeking extended support from stakeholders for project's success. This process of communicating and working with stakeholders to meet their needs / expectations, address issues as they occur, and build appropriate stakeholder engagement in project activities throughout the lifecycle of the project is termed as Management Stakeholder Engagement process.
Activities involved in Manage Stakeholder Engagement process are:
Ensure continued commitment of stakeholders at all stages of the project.
Ensure stakeholder expectations are met. The tools used could be negotiations and communication.
Anticipate future problems and address potential concerns throughout the lifecycle of the project.
A few critical points of Manage Stakeholder Engagement includes:
Stakeholder influences are the highest at the start of the project and as project progresses the influences continue to reduce.
Project sponsor's assistance to be taken by the project manager whenever required.
INPUTS FOR MANAGE STAKEHOLDER ENGAGEMENT
Inputs for Manage Stakeholder Engagement include Stakeholder Management Plan, Communications Management Plan, Change log and Organizational Process Assets. The communications management plan includes a documentation of stakeholder's needs for communication requirements. Every stakeholder needs information for a specific purpose and thus, the formats, level of detail, content and language might need some alteration from stakeholder to stakeholder. All of this need to be taken into consideration as inputs when Managing Stakeholder Engagement.
Tools and techniques used to Manage Stakeholder Engagement include effective communication methods such as use of email, meetings, process updates through intranet, war rooms, among others. Project manager uses effective interpersonal skills including active listening, building trust, resolving conflict and overcoming resistance to change.
Like interpersonal skills, the project manager also requires Management Skills such as effective facilitation of consensus towards achieving project objectives, influencing people to support project, negotiate agreements to satisfy project needs and help modify organizational behavior to accept project outcomes.
OUTPUTS OF MANAGE STAKEHOLDER ENGAGEMENT
Issue Logs, Change Requests, Project Management Plan Updates and Project Document Updates are common outputs. Organizational Process Assets get updated with additional information:
Stakeholder notification; it is important to notify stakeholders about project updates, any issue closures, etc.
Project reports; project reports such as status dashboards, lessons learned, issue logs, etc are to be included.
Project presentations; presentations made formally or informally also form as outputs of manage stakeholder engagement
Project records; correspondence, memos, meeting minutes, etc are included in project records
Feedback from stakeholders;
Lessons learned documentation;
CONTROL STAKEHOLDER ENGAGEMENT
The process of monitoring project stakeholder relationships is Control Stakeholder Engagement. Adjusting strategies and plans for engaging stakeholders is a part of controlling stakeholder engagement. Stakeholder engagement should continuously be monitored.